Akbash Dogs
Southdown Babydoll Sheep
Polish Chickens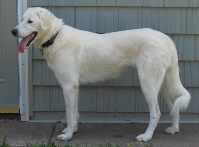 Sheepfields Akbash Dogs
Diane and Dr. Drew Spisak have been breeding quality working Akbash Dogs at Sheepfields since 1988. They produce 1-2 litters of sound, stable and well socialized puppies each year and sell them to qualified buyers for livestock protection (also known as LGDs or livestock guardian dogs) or for rural companions.

Sheepfields Polish Chickens
Presently Diane is raising solid whites and white crested varieties with black, khaki, chocolate, and cuckoo coloring. Polish Bantams are friendly, docile, lay medium sized white eggs and make excellent pets. Sheepfields' chickens produce bird with some real show potential. Diane's Polish Bantam chickens come in regular feather as well as "Big Bird" looking Frizzles.
Babydoll Southdown Sheep in KS
The Spisak's Babydoll Southdown flock dates back to the old type Southdown that Diane showed in the 1960's. She demands high standards for breed type, conformation, temperament, and mothering ability. Babydoll Southdowns are a small and docile breed of sheep that make excellent pets or 4H projects for young children.

Sheepfields is located in east-central Kansas, 25 miles south of Kansas City off of Interstate 35.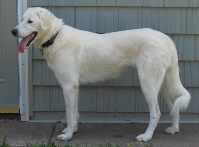 AKBASH DOGS
The Akbash Dog is an elegant rare breed from Western Turkey. The name comes from the Turkish word "akbas" meaning "white head".

Akbash Dogs are intelligent, emotionlly sensitive flock guardians that were developed 3000 years ago to fend off wolves and bears which threatened flocks of sheep and goats in Turkey.

Sheepfields' Akbash Dogs are full time, safe, reliable working dogs with OFA hip certifications of "Good" or "Excellent".

All of our Akbash Dogs are with sheep, poultry, horses as well as cats and horses, as well as cats and herding dogs.

More about Akbash Dogs →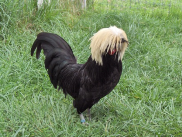 POLISH CHICKENS
Polish Bantam chickens are one of the 16 most popular bantam breeds. The most distinctive characteristic of the breed is the crest of feathers on their head.

Roosters have a long flowing cascade of feathers and the hens have a puffy pom-pom of feathers on their head. Often the crest is white and body feathers another color.

They are a docile breed that tame down easily and make excellent pets.

More about Polish chickens →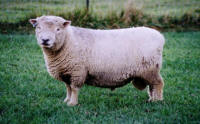 BABYDOLL SHEEP
Over the years these sheep were bred up to the tall, long and lean sheep of today's modern Southdown.

Pockets of the original, small Southdowns were rediscovered scattered on small farms across the country and were again of interest to people who have the desire to have a few farm animals as pets or for market, without having to have a large barn, large acreage and the strength to handle regular-sized sheep.

To distinguish these small old original type of Southdown from the large, modern Southdown, they were renamed Babydoll Southdown sheep.

More about Babydoll sheep →